Start to Write
Break free from rules, overcome your fear, and start writing today
Book 2 in the series: Step by Step Guides for Growing Writers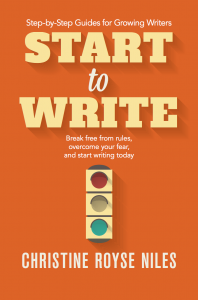 Apparently, a lot of Americans would rather write a book than read one. I'm assuming you're one of the awesome people who would like to do both.
You want to write.
Maybe you leave story ideas on post-it notes all over the house (or your office, or your car, or stuck to your neighbor's dog).
You frantically whisper notes into your phone while you wait in line at the DMV.
You might even schedule a four-hour block of time, set yourself up at a hipster coffee shop to people-watch and write.
Then you sit down in front of a blank screen and you stare at it. You prepare for battle. You order another quad-venti-three-pump-hazelnut latte.
It's scary, right?
It doesn't have to be.
What's stopping you from writing right now?
Do you wonder if anyone will ever read what you're writing?
Do you fear your writing just isn't quite good enough?
Do you feel like everything has already been said?
Do you need a mentor to guide you?
Do you think you need to go back to school and get a creative writing degree?
Do you stare at a blank screen waiting for your Muse to give you the perfect opening line?
I hear you. I've been you. You are not alone.
I started writing seriously a few years ago. I spun around in my head about what to write, how to make people read my writing, and how to write the perfect opening line for a blog post.
I wasted hours researching each idea to see if someone, sometime in the history of the world, had already stumbled upon it. I used a lot of energy worrying and then preaching at readers instead of opening up a conversation.
I've learned a lot about how to be a writer the hard way.
Since then, I've spent hundreds of hours coaching writers in storytelling and copywriting. I've helped a lot of new writers work through the same things I struggled with.
I want your road to be easier.
In Start to Write, I share eight lessons I learned about being a writer. Eight steps you can follow to make your journey a little easier.
These are the things I wish I had known when I started. Things that could have saved me a lot of time and emotional energy.
I want to encourage you with practical advice and clear up the mystery of what it means to be a writer.
Are you ready?
Are you ready to grow faster?
Are you ready to get past your fears?
Are you ready to be a writer?
Start to Write is available for less than the cost of a bad gas station cappuccino. What are you waiting for?
What others are saying
[Start to Write] will be very useful to a lot of people newer to writing…these aren't new things to me, but on can't-get-enough-chocolate-and-self-loathing days, this would be a good (quick) reminder that it is doable.  – Kendra Burrows, www.kendraburrows.com
There was so much juicy goodness in this that I am a little overwhelmed and can't wait to read it again…each section seemed more the part of what I needed to learn. – Adrianne Goodrich
Nice balance between information and something to chuckle over as we ponder what we need to do, fix or change in our writing. – Katrina Campbell-Davis
This is one of the best explanations of how to edit without making it technical. You don't talk down to me. I feel as though we are on level ground. – Stella Myers
Once you've read it
First, let me say thank you. It's an honor to share these lessons with you, and I hope you found something helpful or inspiring.
I want to get to know you, so share your thoughts in the comments.
And if you found any of the steps helpful, think about how they might encourage someone else you know. You're welcome share this book with your friends, family, or even strangers on the bus.
Share it on Facebook
Tweet about it, using the hashtag #StartToWrite
Email this link to a friend
Leave a review on Amazon (by the way, this is the best gift you can give any author, new or established)
Send it by owl to your friend who lives in a cabin in the mountains by a lake and is writing the next Great American Novel.