Welcome to Writer's Next Step!
If you're here, you have something special to share. You're determined to get your ideas onto the page, to weave your unique experiences, information, and stories into meaningful truths.
Your words are important.
But your words can't change the world if they're not in it.
Maybe you want to write, but you aren't sure how to get started. Perhaps you've been writing, and you're ready to take it up a notch. Or maybe you're just hitting technical roadblocks trying to get your writing in front of readers.
Wherever you are in your writing journey, you're determined to take your next step. (You are determined, right? Ok, good. I thought so!) 
Wouldn't it be great for other determined writers to stand beside you, encourage you when it gets tough, and offer you the resources you need to succeed?
Help is here
Writer's Next Step is a place for determined writers to come together in a community of encouragement and growth.
It's a place where we hold each other accountable and we offer more than kind words (although we offer those too).
It's a place where we solve problems. Where we share tips and steps and actionable information.
It's a place where we can meet people with complementary skills. Where we can trade services. Where we can find collaborators.
Where we solve the problem of discouragement with encouragement AND with information. With tools. With answers and practical help.
It's more than a how-to blog. It's a community.
I know how it feels to be overwhelmed
I've fought through the doubt, and I still have doubtful moments. I've Googled and YouTubed my way into blog platforms and email systems and ebook formats. And I've worked with bestselling authors to plan launches and build courses.
I've learned what works and what doesn't. The hard way!
And the most important lesson is community. I need it. You need it. Every one of us needs people to encourage and to hold us accountable for our next steps.
Well, almost everyone. I mean, if you're happy where you are, that's great. Or if you're content just thinking about writing and sharing funny memes on Facebook, awesome. Keep doing that.
But if you're looking for a place to be real, to share struggles and celebrate victories, to help and be helped, you're in the right place.
You deserve some shortcuts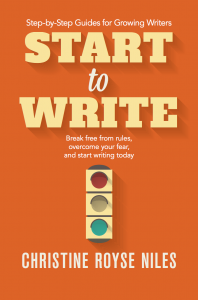 Helping you is important to me.
I even wrote a book about it. It's called Start to Write.
It's a collection of the top eight things I wish someone had told me when I started my career as a writer. I wanted to save other writers some of the pain I felt by learning the hard way.
(You can check it out at Amazon, Barnes & Noble, Kobo or wherever else you snag your eBooks.)
I've got a gift for you
Many cultures build and strengthen relationships through gifts. I think they're on to something. (Well, that, or I just really love free stuff.)
So here's my gift to you.
Heck yeah! Bring on the gifts!
You'll find TONS of free resources and information here (you can check it all out in the menu under Resources). But to get you started, I've compiled a little Survival Kit. It's got simple, quick tools to help get you moving ahead, no matter where you are in your journey.
More helpful stuff
I've been blogging about writing off and on for about four years. I've written through the hard parts (and I'll admit, I've had some silent seasons too). Over that time, here are some of the articles people have appreciated the most:
Let's do this!
Here's the thing. An object at rest tends to stay at rest (Thank you Mr. Peterson!) And that goes for people, too.
If you're at rest, and you're happy to stay there, then by all means, stay at rest. Lurk around, read everything, and dream of the magical day in the indeterminate future when you quit your job and move to a cabin in the mountains.
But if you're ready to take that next step, join the community and hang on for an awesome ride!